Becks over at Mommy Wants Vodka hosts her annual meme about this time every year and I am jumping mexico viagra no prescription aboard this crazy train for the second time because I like random surveys given by foxy bitches who like encased meats.  This is what I had to say last year, if'n you care to refresh.
1. What did you do in 2012 that you'd never done before?
I made science my bitch.
2. Did you keep your New Year's resolutions, and will you make more for next year?
I'm gonna say yes because I'm too lazy to look at my resolution post from last year and because I've been told that I need to believe in myself more.  I will make more.  I will make many.  #onedayimgonna
3. Did anyone close to you give birth?
My lovely step sister just had her first kid.  Several Bandmates had babies and one of my mommy friends had her second kid.
4. Did anyone close to you die?
My favorite aunt died.  There's a hole there to deep to mention in polite company.  One of my Bandmates, the irrepressible ball of joy Mrs. One Day, died this week.  Although I didn't know her well, her kindness was legend.  She will be remembered, as will her message of dreaming big and dreaming often.  #onedayimgonna.
5. What would you like to have in 2013 that you lacked in 2012?
Daryl Dixon and the ability to freeze time.
6. What countries did you visit?
Texas.
7. What date from 2012 will remain etched upon your memory, and why:
Halloween was pretty memorable.  Hulk and Thor do Urgent Care tends to stick to the gray matter.
8. What was your biggest achievement of the year?
Showering more days than not.
9. What was your biggest failure?
There were many.  The most recent went undetected to my epic relief.
10. Did you suffer illness or injury?
Depression.  It's old news, people.
11. What was the best thing you bought?
Contigo Water Bottle at the recommendation of Moosh in Indy.  Money well spent.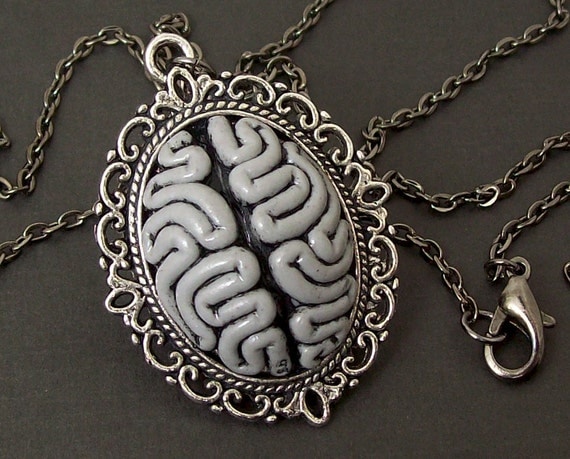 If I only had a brain.  Oh wait, I do.
I'd wear this everyday, but then I'd have to shower more.
12. Whose behavior merited celebration?
Ellen, because she is spreading the kindness movement on a global level.  Also, she's fucking funny.  And a cover girl.
13. Whose behavior made you appalled and depressed?
There was a lot of unkindness and bullying that made me sad in the heart parts.  There was also the whole election dealio that left me exhausted and deflated.  And, of course, the escalating incidences of violence that decimated me.
I'm trying to keep the light on the good stuff I witnessed.  The kindness, the camaraderie, #26acts, all that Ellen does everyday for people.  The Band, the Bloggess, Moosh in Indy and everyone else who shines lights into the dark corners and lifts up those who are down.  Kindness is catching.  Pass it on.
14. Where did most of your money go?
Christmas lights.  It's like the Griswold's up in this bitch.
15. What did you get really, really, really excited about?
Comic book movies.  It was kinda a big year for the geeks.
16. What song will always remind you of 2012?
http://youtu.be/mTeZcHWHeW4
We really are you know.
17. Compared to this time last year, are you:
i. happier or sadder?  I can hardly remember yesterday, how am I supposed to remember last year?  This year has been pretty bad so probs sadder.
ii. thinner or fatter?  Thinner.  Slightly.
iii. richer or poorer? Same, same.
18. What do you wish you'd done more of?
Flash mobs.  Also flashing.
19. What do you wish you'd done less of?
Second guessing and stressing.
20. How will you be spending Christmas?
I spent it with the kid and the hubberband.
22. Did you fall in love in 2012?
Only with Daryl Dixon and Russell Stover Dark Chocolate and Coconut Cream Santas.
23. How many one-night stands?
I've had a series of them with the aforementioned Santas.
24. What was your favorite TV program?
The Walking Dead.
25. Do you hate anyone now that you didn't hate this time last year?
I don't hate anyone.  But I harbor strong feelings of anger, disappointment and revulsion for a select few.
26. What was the best book you read?
Let's Pretend This Never Happened: A Mostly True Memoir
27. What was your greatest musical discovery?
http://youtu.be/3SDYus7iKC8
28. What did you want and get?
A meat thermometer.  Seriously.
30. What was your favorite film of this year?
Moonrise Kingdom and The Avengers.
31. What did you do on your birthday, and how old were you?
I turned 43.  I went to Bio, had a massage and saw Pitch Perfect.  It was cool.
32. What one thing would have made your year immeasurably more satisfying?
A little more sun and a little less science.  Also, world peace.  And more Dark Chocolate Santas.
33. How would you describe your personal fashion concept in 2012?
Minimalist.  Read: I can fit into two pairs of pants, both of them yoga.
34. What kept you sane?
I don't think I am this year.
35. Which celebrity/public figure did you fancy the most?
36. What political issue stirred you the most?
The election was pretty hairy.  I'm grateful for three more years before the next shitstorm.
37. Who did you miss?
38. Who was the best new person you met?
Well, I technically met Lisa last year online, but met her live and in person this year.  So, Lisa.
39. Tell us a valuable life lesson you learned in 2012:
Patience is not a virtue I possess.  Hurry the fuck up, is.
40. Quote a song lyric that sums up your year:
I know what I want but I just don't know
How to, go about gettin' it
http://youtu.be/bq76w2e6HoQ